Introducing the Post Haste Mobile App
The Post Haste Mobile App has been developed for the Android and Apple iOS platforms, and is capable of running on both phone and tablet devices.
Key Functions
Version 1 of the Post Haste Mobile App offers three main functions:
---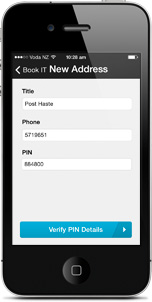 Courier Booking
The Booking function enables users to enter their website PIN and phone number details to register a Pickup Address on their device.
Once registered, the Post Haste Mobile App can complete a booking to the selected address with a single button press.
Features include:
Shows a list of Pickup Addresses from which bookings can be made.
Pickup Addresses are defined by entering a Title followed by the customer's existing Phone Number and PIN numbers currently used on the existing courier company web sites.
Phone Number and PIN details are validated against the Courier System at the time of entry.
Add one or more addresses from which pickups could be booked.
To book a pickup press the selected address and press the Book button.
A booking reference is generated.
Once you've made one booking from a Pickup Address you can't repeat that for the same address for another 15 minutes.
---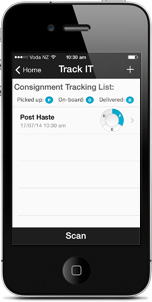 Track and Trace
The Track and Trace function is similar to the existing web site Track and Trace function.
Users can create a list of consignments they are interested in. These might be consignments that they have sent or consignments they are expecting to receive.
Users can scan bar codes, check the Track and Trace status and save them in their list of consignments.
Features include:
Maintains a list of consignments you are interested in tracking. You can add entries to the list by pressing the + icon in the top menu bar or pressing the Scan button.
Consignment Tracking IDs are loaded in two ways:

Manually entering their details.
Scanning their barcodes.

You can load multiple Consignment Tracking IDs ( eg tickets ) for each Consignment.
As a sender, you can record a description of the consignment and take a photograph of the item or its address panel for your records.
A summary Track and Trace status is displayed for each consignment. This can be refreshed by touching the circular icon.
Press the list entry to view the details of the Tracking IDs and their individual Track and Trace status.
The P-O-D summary shows at a glance whether Pickup, Onboard or Delivery scans have been recorded for each Tracking ID.
Name and signature of the person who signed for the delivery is displayed.
Alert symbols highlight the existence of status scans.
Press on each Tracking ID to see full Track and Trace results of individual items within a multi-part consignment.
---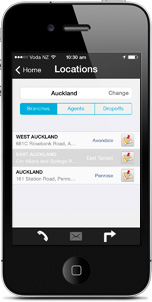 Locations
The Locations facility provides address and contact details of Branches, Agents and Drop Off Points.
Users can view the location on a Google map and obtain driving instructions for the selected address from their current location (assuming Location Services are enabled on their mobile device).
The phone numbers and emails of locations are both available and these can be used to make calls from smartphones or send emails with the press of a button.
Features include:
Find nearest branch, agent or drop off points using your current GPS location.
Display the selected location on a map.
Contact the business on:
Get driving directions to the selected location.
If you are interested in details for a branch somewhere else in the country you can change the selected branch.
---