Company profile
A history of innovation
Post Haste has been looking after New Zealand's courier needs for over 40 years now, beginning as Armourguard Security way back in 1977. We were one of the first courier companies to blaze a trail in New Zealand, and have been innovating since the 1970s. Since then, so much has changed, yet at our heart we remain the same – a Kiwi business with strong Kiwi values of doing it right by our customers.
The brand
In 2020 we made the decision to re-fresh the brand logo in an effort to not only refresh the image but to refresh our business attitude by investment in our customers, operations and innovation technology that supports both.
It is important that our brand reflects the major factors that influence our business and the pathway that has been created to achieve our goals.
The fern, an iconic symbol that represents our commitment to New Zealand business and the people that grow them. At Post Haste this two-tone fern with its soft edges is a reflection of our business approach. Kiwi centric, based on the strength of relationships between our customers and ourselves and the road we travel together.
How we do it
More than a network of vans, planes and branches...
These days Post Haste has grown to become a large part of New Zealand's courier infrastructure with 16 branches nationwide and 330 couriers servicing 360 towns and cities across our fair land.
A comprehensive combination of New Zealand's main commercial / business regions, residential and rural addresses means with Post Haste and the Freightways group of companies, there is nowhere in New Zealand you can't reach within 24 hours.
...we're a network of great people
Post Haste people recognise that we are an important part of your business. We recognise this in the way we work, how we price what we do and how we add value to your business. We'll get involved and we'll work with you in a very real and human way.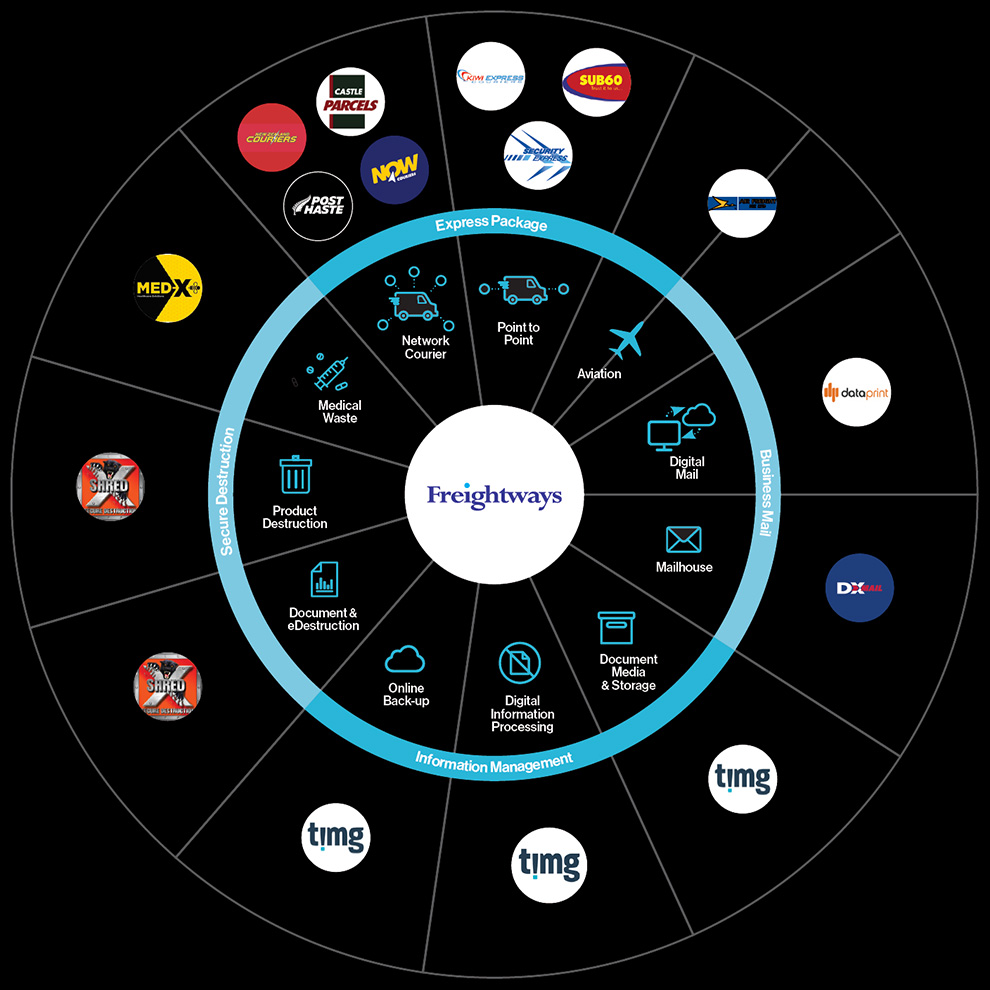 Our technology
Having technology that is current and up to date is a priority for us. Following are a few examples of the technology options we offer our customers:
Autobook: where you can book a courier pick up over the phone
Parcel Management: given customers both at sender and receivers' end of a transaction access to key functionality
Electronic Ticketing: where you are able to produce your own courier tickets if your company meets the required criteria
API Integration: Integrating with our systems allows you to offer your customers choice and control over how they receive their items.
Considerable investment has been made to allow for significant developments within the technology arena, to futureproof our business and provide our customers with the highest quality output. Stay posted for more information.
Our customers
We deal with customers in many industries that primarily have a need for efficient and effective distribution for their business to business transactions. Many of our customers are household names in the wholesale and retail markets.
Accessing a courier network should offer more than just tickets and packs. Distribution is our business and you can rely on us to supply you with the right advice on optimising your courier systems and costs.
Our business solutions can incorporate a number of specialised services to enhance your business - from standard courier requirements through to designing a new distribution system for your specific business needs.